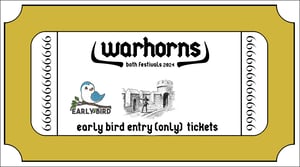 £

109.00 - On Sale
A limited early bird E-ticket for Warhorns Late Winterfest taking place on Friday 12th & Saturday 13th April 2024 & Warhorns Late Summerfest taking place on Thursday 5th, Saturday 6th & 7th September 2024 at Drax.
Late Winterfest's bands include:
Argesk
Arkham Witch
Concrete Age
Dal Riata
Dark Forest
Earthbound
Edenfall
Lowen
Pagan Storm
YYLVA
+
Many more bands to announced including headliners!
Late Summerfest's bands include:
Kalmah (Finland) - Headliner
Suotana (Finland)
Bring To Bear
Blood Countess
Halveksia
Old Corpse
Sellsword
Wolves In Winter
+
Many more bands to be announced!